The Pearlmaster Rolex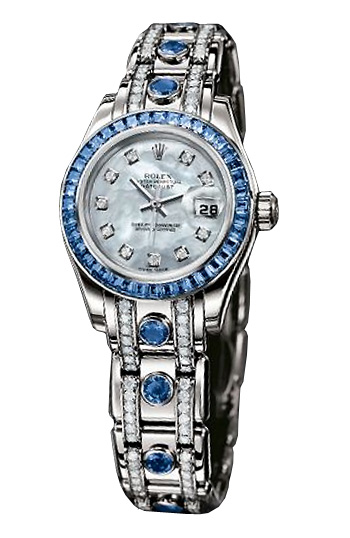 Nothing says luxury more than a classic Rolex timepiece. If you are in the market for a luxury ladies watch, the Rolex Pearlmaster may be the watch for you. One of the most flamboyant and visually striking lines of the Rolex timepieces, the Pearlmaster boasts woven chunks of 18k white or yellow gold on its wristband and an elegant mother of pearl face.
Hour markers are replaces with brilliantly cut diamonds in this line and Rolex even gives you an option of choosing the distinct "Tridor" band. The word Tridor is the French abbreviation of "three golds." The band is woven with 18k white, yellow, and pink gold to form unique and elegant bracelet. Various bezels from the original flutted to precious stone or diamond encrusted are also available for you to customize your Pearlmaster watch.
Similar to all watches in Rolex's Datejust line, the Pearlmaster models have a date display with the Rolex Cyclops date viewer, are self-winding, and waterproof up to 300 feet (100 metres).
About the Rolex Datejust
Introduced in 1945 on the company's 40th anniversary, the Rolex Datejust was the very first wristwatch to offer a date function. The Datejust was a modified, updated version of the Bubbleback model. The date window was placed at the 3 o'clock position, replacing the 3rd mark on the watch. It featured date markers that alternated red and black with the changing of the date.